WHAT
ARE 5.0 Acoustics Formula — Frequency vs. Wavelength
The wavelength formula is among the four ARE acoustics formulas listed in the NCARB ARE Guidelines (page 126). Let's check out the relationship between wavelength and frequency.
Project Planning & Design
Section 3 — Building Systems, Materials, & Assemblies
Objective 3.3 — Determine special systems such as acoustics
Excerpted from the CLARE article, Acoustics and Design Strategy.
Through design, we can influence the sounds we want to hear and eliminate those we don't. But first, we need to understand sound. Sound energy travels through a medium (solid, liquid, or gas) in waves. For example, airborne sound waves, like those produced by speech or a car horn, cause air molecules to oscillate in the direction of the sound, which results in an audible pressure wave. To better understand what's happening, let's look at the components of sound.
Wavelength is the distance between two corresponding points on a waveform, measured in feet.  
Frequency, sometimes called pitch, is the number of wavelengths that repeat in one second, measured in Hertz (Hz). Humans can hear frequencies within a range of about 20Hz to 20,000Hz. A high frequency corresponds to a short wavelength, and a low frequency corresponds to a long wavelength. 
Amplitude, sometimes called loudness or volume, is what we perceive as the relative intensity of the sound waves, measured in decibels (dB).
Velocity (speed) of sound waves is more or less constant, measured as the distance (in feet) traveled in one second (fps).Interestingly, wavelength and frequency have an inverse relationship, i.e., as one gets larger, the other gets smaller. Therefore, the ARE acoustics formula is Wavelength (λ) = Velocity (c)/Frequency (f) 
λ = c / f 
Much more in the CLARE app.
Because proper acoustic design is critical, understanding the characteristics of sound helps you, the architect, make informed design decisions. It's a complex science. However, for the design of most spaces, an understanding of acoustics fundamentals allows you to minimize the adverse effects of noise, enhance the effects of desirable sound, and maximize the well-being of the occupants. While physics makes no distinction between "sound" and "noise," the latter can be characterized as sound that carries no useful information to the receiver and is perceived as unpleasant. So, of course, it's incumbent on architects to control noise. Not just because it's annoying, it can be unhealthy. In a work environment, if it's loud enough for long enough, it's dangerous.
WHAT
ARE 5.0 Practice Exams – How To Use Them Wisely.
There's a ton of ARE 5.0 practice exams out there. But, a solid test question is hard to write. With the help of psychometricians, NCARB relies on an army of volunteers to write, review, revise, and test ARE exam questions before they're unleashed on candidates. The fact that candidates still have issues with NCARB's exam questions is evidence of the writing challenge. I'd argue that no third-party ARE 5.0 practice exam questions have been as thoroughly vetted, and forget about accurate levels of cognitive complexity. So proceed with caution. Research supporting an increase in exam scores after taking multiple practice tests is measured using actual exams for practice. NCARB does not release deprecated exam forms, but having one practice exam for each division is definitely helpful.
When we talk about the value of an ARE 5.0 practice exam, passing or failing does not indicate your exam readiness, nor is it about getting the right answer. The value is gaining insight into potential ARE 5.0 exam topics and assessing how well you understand them. And to determine whether you fully grasp a concept, you'll more than likely have to do some additional homework.
ARE
Practice Test Questions
Let's examine just one of the many practice questions that have vexed ARE candidates lately. Here's a screen capture from a practice test promotional video (by a well-known company). Remember, this is not to bash the writer. Again, it's not easy. Take a shot at answering this question?
(Scroll for the answer)
Below is their answer, (A), along with a few mortar joint examples.
Rationale
In the video, here's how they justify the answer:
Eliminate answer choices C and B right off the bat:
(C) accept the change, because there is no practical way to modify troweled joints.
Rationale: The architect shouldn't accept inferior work.
(B) accept the change, because there is little difference in the two joints.
Rationale: There's clearly a difference [in weather resistance] between the two joints.
(We'll get to the "two joints" in a minute.)
That leaves us with answer choices D, or A.
(D) reject the work and have the mason trowel additional mortar over every horizontal joint.
Rationale: While there is some "practicality" to this solution, it's not enough to justify accepting inferior work.
According to the video, (A) is the correct answer.
(A) reject the wall and have it rebuilt.
Rationale: Even though it doesn't seem "practical," this is the only/most correct answer [because the wall will fail prematurely, the architect should not accept inferior work or the increased liability, the mason's work doesn't match the construction documents or meet the owner's expectations].
The Practice Test Problem
If you picked the right answer, congratulations. If not (or if you just couldn't choose), don't get tangled up trying to justify one answer choice over another. The answer choices are irrelevant because the question itself is flawed.
Using accurate terminology in ARE 5.0 practice exam questions is important. In this case, it's vital. So, this isn't just an exercise in semantics and pettiness. Choosing the "correct" answer hinges on knowing the difference between "troweled" and "weather-struck," and how well they protect an "exposed exterior masonry wall" from the damage of the freeze-thaw process.
"a mason has used troweled joints…instead of the weather-struck joints that were specified."
Remember their rationale for why answer choice B is wrong?
"There's clearly a difference between the two joints."
The problem is that "troweled" and "weather-struck" are not two different kinds of joints.
"Troweled" is a method of making various types of joints, by using a trowel, one of which is a "weather-struck" joint. Look at the image atop this blog post. The mason is using a trowel to make a weather-struck joint.
They're comparing apples to oranges.
The Explanation
There's a lot going on here, so let's break it down. Generally, there are two types of mortar joints; troweled, and tooled.
In a troweled joint, the mortar is shaped by cutting off the excess with the edge of a trowel. Note that the joints the rationale calls "trowel struck," "flush," and "weather-struck" are formed using a trowel.
In a tooled joint, a special tool is used to compress and shape the mortar in the joint, which makes the joint more weather resistant.
Now, let's take a closer look at their rationale. Notice the "trowel struck" and the "weather struck" joints. They show these two joints to illustrate that one joint sheds water better than the other, which is true.
The thing is, the construction industry uses different terminology to describe joints, how they're formed, and their weather resistance. For example, what their rationale image calls "trowel struck" (below left) is typically called, "struck." On the right are just a few examples from a Google search.
Their use of the term "trowel struck" muddies the waters. But that's not the most troubling part. Again, the question states:
"a mason has used

troweled joints

…instead of the

weather-struck joints

that were specified."
But, a "weather-struck joint" is a type of "troweled joint!"
This is a long way of saying, because the terminology isn't quite right, it's impossible to match a correct answer choice to the question.
So, is this ARE practice test question useless? If you are using it to predict your performance on ARE 5.0, yes. If you consider this practice test question to be a "thing to know" and then research it, the answer is no. By investigating the topic, I got a quick refresher on joint types, their effectiveness, and much more. And that's the point. Think of ARE 5.0 practice exams as a guide for topics you should understand. Then study those topics.
Your practice test score is not a measure of your readiness to test. If you insist on taking ARE 5.0 practice exams, other than NCARBs, keep in mind that those questions don't get nearly the same scrutiny as actual ARE test questions, and this example is no different. Remember, it only takes one word to derail what might otherwise be a solid ARE practice question. As I said, they're hard to write.
WHAT
Shading Devices According to the NCARB References
Project Planning & Design
Section 1 — Environmental Conditions & Context. Objective 1.2 — Determine sustainable principles to apply to design.
Or
Section 4 — Project Integration of Program & Systems. Objective 4.4 — Integrate environmental and contextual conditions in the project design.
Candidates are entitled to rely on the NCARB references for accurate information. So, what if the references are contradictory? For shading devices, when and where to use them, CLARE has you covered.
South-Facing Windows
Fortunately, each NCARB reference agrees on which shading device is best for the south facade. Because the sun is highest in the sky when it's directly south, use overhangs. Period. That's it. That's the answer.
North-Facing Windows
For the north facade, orthogonal vertical fins is the clear winner, but among the references, the need for vertical fins is not unanimous. But here's the takeaway. In a hot climate, if very early morning and/or late afternoon summer sun is a concern, vertical fins are the best option.
East and West-Facing Windows
According to the NCARB references, all but one recommend vertical fins for east and west-facing shading devices. However, Heating, Cooling, Lighting (arguably the most important reference) recommends using overhangs, and they have a lot to say about it, including, "Vertical fins are not good for shading east and west windows!"
Obviously, the east and west facades present the most significant challenge for effectively shading windows. A host of factors; seasonal fluctuations, the daily arc of the sun, climate, latitude, views, practicality, etc., mean there's no one-size-fits-all solution.
So, what should candidates do? Firstly, understanding sun orientation in three dimensions is the most effective strategy. This allows you to evaluate various shading solutions relative to the given criteria. Then, dissect the criteria and diagnose which shading device is most appropriate. This eliminates the need to memorize which devices are most effective on a given facade.
Do yourself a favor and hone your ability to visualize sun angles in summer vs. winter and its path across the sky from morning to evening. Fortunately, the CLARE app has the goods. In the meantime, check out these simple GIFs to help you visualize seasonal sun angles.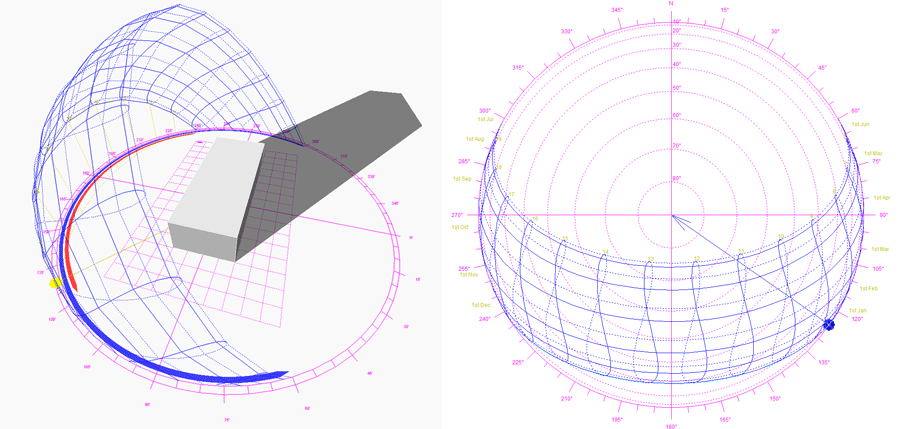 Winter — notice the low sun arc and long mid-day shadows.
Summer — notice the high sun arc and short mid-day shadows.
Now, back to the NCARB References and shading devices
The following books are significant NCARB references for the topic of sun shading:
Building Construction Illustrated Francis D.K. Ching John Wiley & Sons, 6th edition, 2020
Green Building Illustrated Francis D.K. Ching and Ian M. Shapiro Wiley, 2014
The Green Studio Handbook: Environmental Strategies for Schematic Design Alison G. Kwok and Walter Grondzik Routledge, 3rd edition, 2018
Heating, Cooling, Lighting: Sustainable Design Strategies Towards Net Zero Architecture 5th edition
Mechanical & Electrical Equipment for Buildings Walter T. Grondzik and Alison G. Kwok John Wiley & Sons, 12th edition (2014) and 13th edition (2019)
Sun, Wind, and Light: Architectural Design Strategies G.Z. Brown and Mark DeKay John Wiley & Sons, 3rd edition, 2013
Here's a summary of east and west-facing shading devices according to each NCARB reference, followed by commentary specifically from each publisher.
East and West Shading Devices — Summary
Use vertical fins:
In a hot climate, slant fixed fins toward the north to block the hottest sun.
In a cold climate, slant fixed fins toward the south to allow insolation of winter sun.
Ideally, use movable fins that adjust to keep their broad sides facing the sun.
Especially effective if views are undesirable.
Use overhangs:
If desirable views are critical, then overhangs are the best option.
If glare is a concern, then overhangs reflect glare up and away from internal spaces.
Overhangs must extend beyond the sides of windows to shade adequately.
Blocking all morning and afternoon sun is wildly impractical because of the overhang depth required.
Here's what each NCARB reference has to say about east and west-facing shading devices. Note the outlier, Heating, Cooling, Lighting
East and West Shading Devices — Commentary
Building Construction Illustrated: Movable vertical fins.
"Vertical louvers [shown as movable fins] are most effective for eastern or western exposures." pg. 1.22
"East- and west-facing windows are sources of overheating and are difficult to shade effectively." pg. 1.27
Green Building Illustrated: Vertical fins (fixed orthogonal fins shown). Possibly overhangs.
"Vertical louvers [shown as fixed orthogonal fins] are most effective for eastern or western exposures." pg. 74
"Required east and west overhang depths are much greater and, at 6 feet or more, can quickly become more extended than is feasible. An alternative are vertical louvers or fins, which offer more effective shading protection for eastern and western exposures." pg. 74
"Overhangs and awnings that face east, south, or west reduce solar gains in summer, and so reduce the energy required for air conditioning." pg. 74
The Green Studio Handbook: Vertical fins (fixed orthogonal fins shown).
Figure 4.123 "Effective shading devices" shows vertical fins (no mention of slant) on the east, and presumably west, facade. pg. 115
Heating, Cooling, Lighting: Overhangs. Vertical fins slanted to the north in hot climates and slanted to the south in cold climates is an option, but not recommended.
"Dynamic shading devices are especially appropriate on east and west windows because the sun is low in the sky when shining on the east and west windows" pg. 220-221
"Slant [vertical fins] toward north in hot climates and south in cold climates. Restricts view significantly. Not recommended" pg. 221
"For the east and west orientations, it is not possible to fully shade the summer sun with a fixed overhang" pg. 236
"Since an overhang cannot fully shade east and west windows, it is assumed that vertical [orthogonal] fins would be a better option. In fact, vertical [orthogonal] fins shade no better than horizontal overhangs, and they obstruct the view much more." pg. 236
"vertical [orthogonal] fins that face directly east or west will allow too much sun penetration every day during the summer." pg. 236
"The myth that vertical fins work well on east and west windows can be convincingly busted by either looking at actual buildings that have fins or by building a model of the window with fins and testing it on a heliodon where 'what you see is what you get.'" pg. 236-237
"[Because of reflections] horizontal louvers [overhang] are better than vertical fins on east and west windows." pg. 237
"Vertical [orthogonal] fins are not good for shading east and west windows!" pg. 238
"[if there are large buildings or trees shading the low sun] only a fixed but deep overhang will provide full shade with a view of the buildings or trees." pg. 238
"Since views of the ground and horizon are more important than the sky, use a horizontal overhang with a backup such as shutters." pg. 240
"Horizontal louvers [overhang] are better than vertical fins in part because they support quality daylighting." pg. 240
"If views directly to the east or west are not desirable, slanted vertical fins can be an alternative." pg. 240
"Slant the fins toward the northwest [on the west facade] if shading is required most of the year. Slant the fins toward the southwest [on the west facade] if winter sun is desired. Dynamic fins are better than fixed fins" pg. 240
On the east and west facades, horizontal louvers are preferred over vertical fins, but neither works very well on those facades. Dynamic fins are much more effective than fixed fins on east and west facades." pg. 267
Avoid vertical [orthogonal] fins on the east and west windows, since they work less well than horizontal louvers [overhang]." pg. 681
Mechanical & Electrical Equipment for Buildings: Vertical fins (fixed orthogonal and movable fins are shown). Overhangs for high sun angles is an option.
"During the early design stages, it is best to orient spaces to face north or south to avoid the east/west sun's low angle. If this is not possible, vertical fins are an effective strategy for east and west orientation." pg. 178
"On east- west-facing windows, a horizontal overhang is somewhat effective when the sun is at high positions in the sky but is not effective at low-altitude angles." pg. 178
Sun, Wind, and Light: Vertical fins, if they are perpendicular to the sun. Overhangs for temperate summers & tropical latitudes is an option. Egg crates are an option.
"During the summer at temperate latitudes, or year-round at tropical latitudes, the sun is high enough in the sky for much of the day that horizontal overhead shading devices are more effective at shading outdoor space than vertical ones [fins]…However, in the morning or afternoon, shading elements in the vertical plane [fins] are more effective at blocking low-angle sun."pg. 244
"Vertical shades [fins] are effective when the sun is low and the broad side of the vertical elements faces the sun [slanted]." pg. 248
"Egg crates combine the advantages of both horizontal and vertical shades and are particularly effective on facades that do not face the equator [east, west, and north]." pg. 248
Solar shading is a broad and complex topic, but an important strategy for limiting passive solar heat gain and maintaining thermal comfort. Overall these concepts fill several chapters in the NCARB references, much of which is beyond the scope of the ARE 5.0. But, with CLARE study cards and articles like The Principles of Solar Shading Devices, and Fundamentals of Solar Altitude, you'll understand the dynamics of sun angles and orientation, and be able to respond to any scenario with an effective shading strategy.
Sign up
It's your turn!
(Ready to get serious?)